News Release Video: Terra Balcanica produced a short 3D animation to explain the drill results.

Vancouver, British Columbia, Feb. 27, 2023 (GLOBE NEWSWIRE) -- Terra Balcanica Resources Corp. ("Terra" or the "Company") (CSE:TERA; FRA:UB1) is pleased to announce further, high-grade drill results including step-out drillholes at Cumavici Ridge and a new discovery at the Josheva target extending mineralization at the Cumavici Corridor over 2.3 km to the southeast within its flagship, 216 km2 Viogor-Zanik project in Bosnia and Herzegovina.
Highlights
Highest Grades Intercepted To Date: Drillhole CMVDD004 returned 505.3 g/t AgEq over 11.0 m from 43.0 m depth including 3075.4 g/t AgEq (108.5 oz/t AgEq) over 1.7 m (see Figure 1) 40 m northeast of CMVDD005 and over 50 m northwest from the drill fence that included CMVDD001, CMVDD002, and CMVDD003;


New Discovery at Josheva over 2.3 km southeast of Cumavici Ridge: Drillhole JOSDD001 drilled over 2.3 km southeast of Cumavici Ridge discovered a new mineralized structure yielding 119.7 g/t AgEq over 6.0 m from 53.0 m depth (see Figure 2). The discovery drillhole at Josheva validates the district geologic model and confirms the potential for several other segments of polymetallic veins within the expansive 7.2 km strike Cumavici corridor. The entire corridor remains open for further drill testing.


Five shallow, high grade intercepts: Cumavici Ridge has displayed consistency by the initial drilling with five holes intercepting shallow, high-grade polymetallic mineralization (see Figure 3), including:



CMVDD001: 824.2 g/t AgEq. over 4.0 m including 1634.4 g/t AgEq. over 2.0 m;
CMVDD002: 816.1 g/t AgEq. over 2.0 m;
CMVDD003: 465.5 g/t AgEq. over 8.7 m including 1196.6 g/t AgEq. over 2.0 m;
CMVDD005: 284.0 g/t AgEq over 10.0 m including 895.8 g/t AgEq over 2.0m.

Extending High Grade Footprint With Step-Out Drilling: assay results from CMVDD001 to CMVDD005 confirm consistent high-grade mineralization over a footprint approximately 60 by 100 meters at Cumavici Ridge. (see Figure 4). Further drilling will focus on expanding strike length to the northwest along 650 m of strike length and confirm down-dip continuity to southwest. The system remains open in all directions.


Terra Balcanica CEO, Dr. Aleksandar Mišković, commented: "We are very pleased with the world class intercepts that the Cumavici Ridge system keeps on delivering. The stage is now set for the Phase II drill program of this shallow polymetallic vein that will aim to add onto these exceptional grades. Most exciting is that the highest metal concentrations have come from the northwesterly segment of the system which is the direction where we intend to extend our drill fence in 2023. Also encouraging are the positive Josheva target intercepts located 2.3 km southwest of Cumavici Ridge as a testament to the widespread mineralization along the epithermal corridor. We have numerous, high-grade targets to further test with infill and step out drilling."

Assay Results
| | | | | | | | | | |
| --- | --- | --- | --- | --- | --- | --- | --- | --- | --- |
| Drillhole | From (m) | To (m) | Length (m) | Ag (g/t) | Au (g/t) | Pb (%) | Sb (%) | Zn (%) | AgEq* (g/t) |
| CMVDD004 | 43.0 | 54.0 | 11.0 | 225 | 0.3 | 0.56 | 1.48 | 0.83 | 505.3 |
| Incl. | 44.8 | 46.5 | 1.7 | 1420 | 0.81 | 3.42 | 9.40 | 4.95 | 3075.4 |
| JOSDD001 | 53.0 | 59.0 | 6.0 | 11 | 0.06 | 0.68 | - | 1.66 | 119.7 |
| JOSDD002 | 30.0 | 32.0 | 2.0 | - | 0.66 | 0.03 | 0.01 | 0.19 | - |
Table 1. Assay results of key mineralized intervals from Cumavici drillholes. Interval lengths reported are drilled lengths, not true widths. Silver equivalents ("AgEq") are based on assumed metal prices of US$1950/oz for gold (Au), US$18.00/oz for silver (Ag), US$1.00/lb for lead (Pb), US$4.50/lb for antimony (Sb) and US$1.50/lb for zinc (Zn). *Assumed metal recoveries of 90% Au, 93% Ag, 94% Pb and Zn, 90% Sb are based on published metallurgical tests for analogous Balkan epithermal deposits. For CMVDD001-003 and CMVD005, see the Company news releases from Sept. 8th, Oct. 22nd, 2022, and Feb. 2nd, 2023.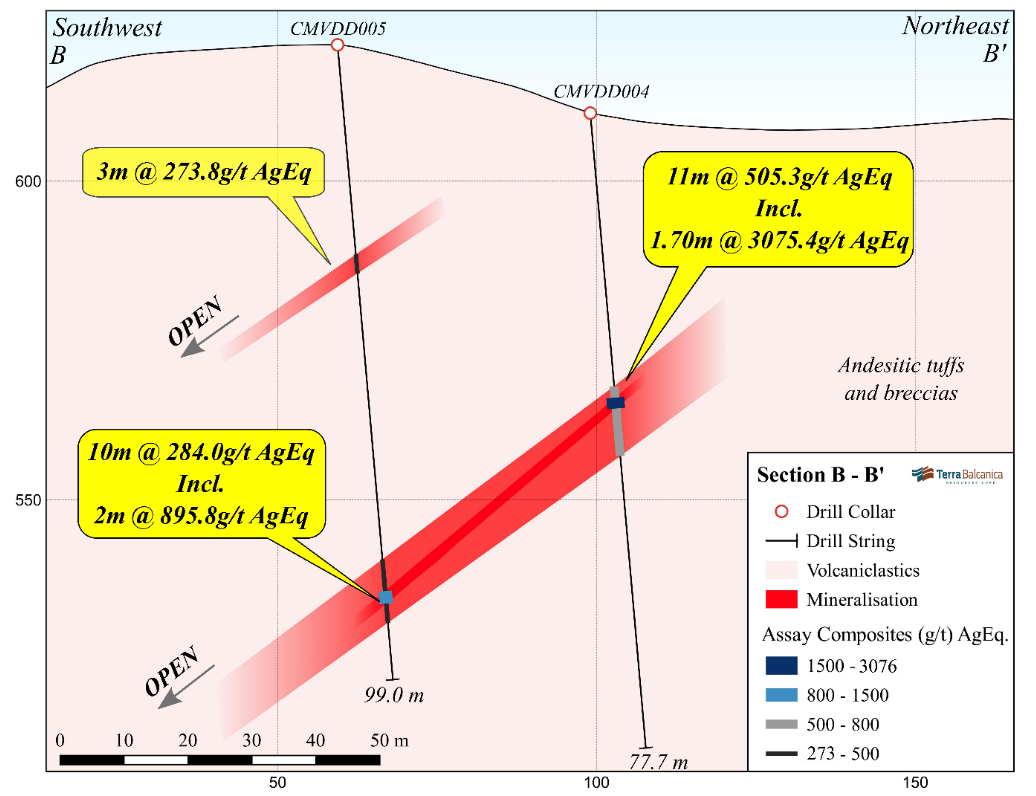 Figure 1. Section B-B' from Figure 3 (below) along drillhole fence CMVDD004-005. CMVDD004 intersected 11 m of mineralization at 43 m depth, illustrating grade continuity to near surface from CMVDD005 which intersected 10 m at 284 g/t AgEq at 81 m. The vein system remains open down dip. Click here to view the image.
Figure 2. Phase I drilling at Cumavici Ridge and the SE extension at the Josheva target. The 7.2 km long Cumavici Corridor extends well beyond Cumavici Ridge to NW. Click here to view the image.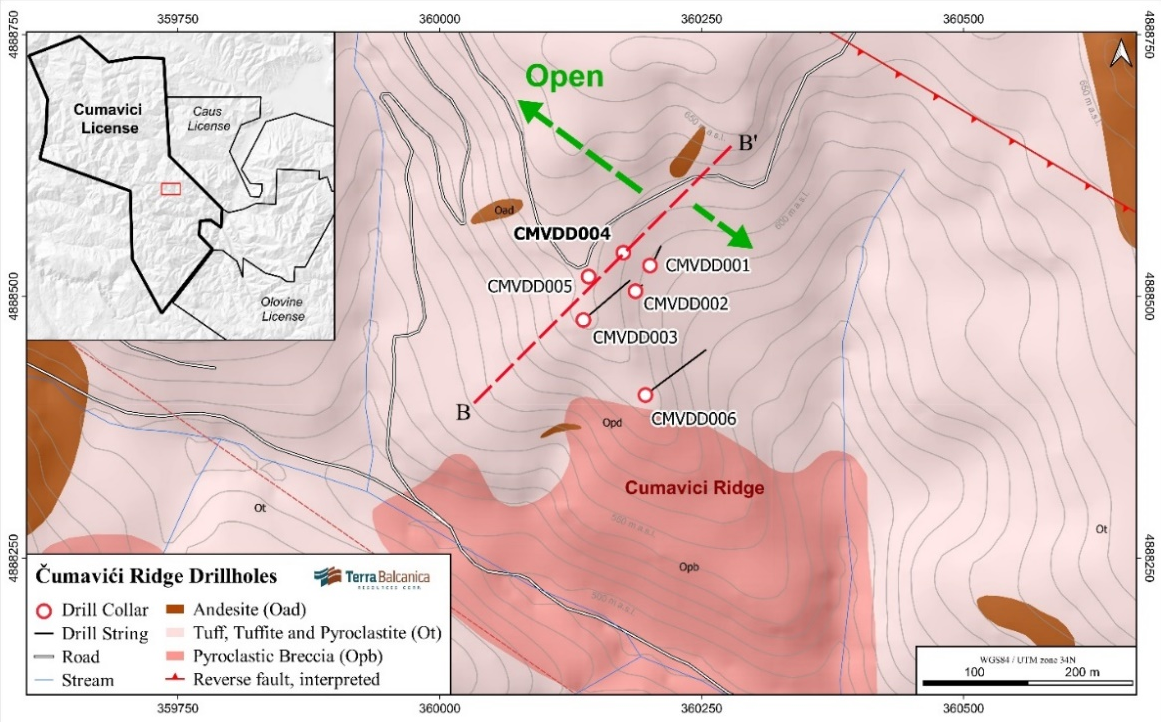 Figure 3. Phase I drillholes at Cumavici Ridge. Drillholes CMVDD004 and CMVDD005 are NW step-outs from the initial drill fence (CMVDD001-003); the system is open along strike. Click here to view the image.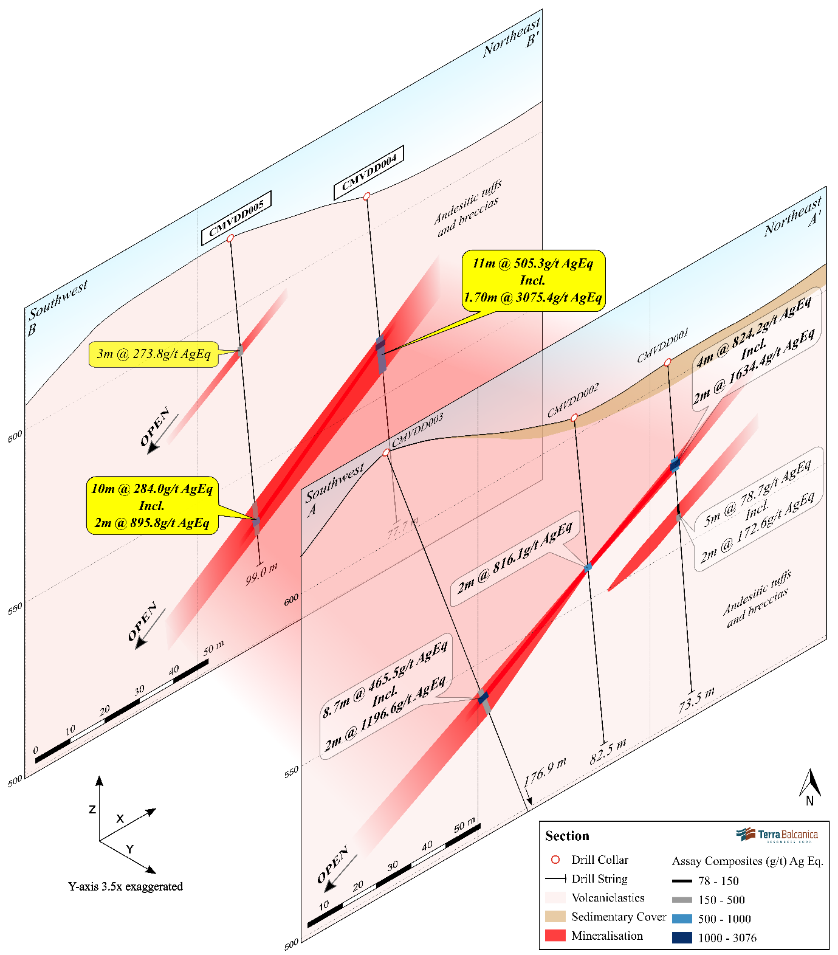 Figure 4. Fence diagram of drilling completed at the Cumavici Ridge target including drillholes CMVDD001 to CMVDD005. Polymetallic mineralization intervals are highlighted in red. The mineralization remains untested and open down dip to the southwest and entirely open to the NW. The high-grade mineralization footprint currently sits at approximately 60 (strike length) by 100 meters (down dip direction). Click here to view the image.

Drill Results Summary
Drillhole CMVDD004 targeted the strike extension of this shallow mineralization with a 39 m NW collar step-out from CMVDD002. Assay results confirm the structure remains mineralized at shallow levels in the north-western direction. Mineralization consists of a main massive sulphide interval with quartz-sulphide veining in the hanging and footwall of the structure. Massive sulphide intervals are characterized by colloform-crustiform sphalerite-galena-stibnite-sulphosalts. A narrow envelope of silicification is observed around the vein intercept with volcaniclastics showing variable chloritization and argillic alteration.
Drillhole JOSDD001 targeted a mineralized structure 2.3 km southeast of the Cumavici Ridge discovery drillholes. It successfully intersected a mineralized structure returning 119.7 g/t AgEq over 6.0 m from 53.0 m depth. Mineralization encountered is characterized by veinlets, disseminations, and aggregates of sphalerite-galena-pyrite within argillic altered andesitic tuffs. Sulphides are associated with calcite and present in intervals of fault gouge.
Drillhole JOSDD002, located 155 m NW of JOSDD001, tested the same structure with a significant step out. Several mineralized structures were intersected, with disseminated sulphides in fault gouge and calcite. At 31 m depth a quartz-arsenopyrite cemented hydrothermal breccia returned 1 m at 1.1 g/t Au and 0.3 % Zn within a 2 m mineralized intercept yielding 0.66 g/t Au.
| | | | | | | | |
| --- | --- | --- | --- | --- | --- | --- | --- |
| Hole ID | Easting | Northing | Elevation (m) | Dip | Azimuth | Depth (m) | Recovery (%) |
| CMVDD004 | 360174 | 4888539 | 611 | -85 | 045 | 77.7 | 87.3 |
| CMVDD005 | 360141 | 4888516 | 621 | -85 | 050 | 99.0 | 94.4 |
| CMVDD006 | 360195 | 4888403 | 611 | -68 | 052 | 154.6 | 93.7 |
| CMVDD007 | 360389 | 4888084 | 485 | -45 | 048 | 175.4 | 97.7 |
| CMVDD008 | 360361 | 4888323 | 522 | -85 | 045 | 78.0 | 95.0 |
| CMVDD009 | 360347 | 4888299 | 520 | -85 | 035 | 91.1 | 99.0 |
| JOSDD001 | 361639 | 4886792 | 386 | -52 | 034 | 108.8 | 96.7 |
| JOSDD002 | 361516 | 4886889 | 383 | -52 | 034 | 111.8 | 99.3 |
Table 2. Drillhole collar survey information for the reported Cumavici Ridge and Josheva drillholes (WGS84/UTM Zone 34N). See the complete list of assays at the end of the news release.
Further Exploration Drilling: Further drilling will systematically test the high-grade Cumavici vein along strike to the NW/SE and down-dip SW where the mineralization is open and untested. The Cumavici Ridge target lies within a local magnetic low, which is continuous for > 500 m strike length. The Company interprets the well-developed magnetic low lineament to represent the structure hosting the Cumavici Ridge polymetallic mineralization, offering a robust target for expansion of mineralization. Due to the shallow nature of this high-grade system, drilling can quickly define strike length utilizing a 40 m regular step out. Mineralization is interpreted to be dipping shallowly to the SW, which allows for down-dip testing with modest meterage requirements. This will be a priority of the 2023 drilling campaign.
Target generation is ongoing by utilizing the geological knowledge gained in the 2022 drilling campaign to unlock the potential of the 7.2 km strike length Cumavici corridor. Understanding of the geochemical and geophysical signature of this high-grade system, and confirmation of the exploration strategy through definition of yet another mineralized structure at Josheva gives the Company confidence in the underexplored nature of the Cumavici corridor. Surface expressions of mineralized structures have been observed at several localities, namely Cumurnica and Seoce where soil geochemistry shows NW/SE trending anomalous Ag-Pb-Zn. Zones of fault gouge with disseminated sphalerite and galena are observed on surface which can be tied to low magnetic lineaments, offering targets for future drilling. The Cumavici corridor remains largely untested, and the Company firmly believes there is opportunity for discovery of the Cumavici Ridge style mineralization along the entire 7.2 km strike length.
QAQC
Composite, half a drill core (PQ3 and HQ3) samples were delivered by truck to ALS Bor, Serbia for sample preparation and analysis at the ALS laboratory Loughrea, Ireland an ISO/IEC 17025:2017 certified testing laboratory. Sample preparation PREP-31BY method was used on all core samples. This involves crushing to 70% less than 2 mm, rotary split 1kg and pulverizing the split to greater than 85% passing 75 microns. Gold was assayed by 30g fire assay with ICP-AES finish (Au-ICP21). Analyses of silver and base metals were completed by highly oxidising digestion with HNO3, KClO3 and HBr (ASY-ORE) and the final solution in dilute aqua regia is determined by ICP-AES (ME-ICPORE). Control samples, comprising certified reference materials (CDN-ME-1811), quarter core field duplicates and blanks were inserted at a rate of 5% and investigated as part of the company's quality assurance and quality control program.
Qualified Person
Dr. Aleksandar Mišković, P.Geo, is the Company's designated Qualified Person for this news release within the meaning of National Instrument 43-101 Standards of Disclosure of Mineral Projects ("NI 43-101"). Dr. Mišković has reviewed and validated the information contained in this news release as factual and accurate.
About the Company
Terra Balcanica is a polymetallic exploration company targeting large-scale mineral systems in the Balkans of southeastern Europe. The Company has 90% interest in the Viogor-Zanik Project in eastern Bosnia and Herzegovina, 100% of the Kaludra and Ceovishte mineral exploration licences in Serbia. The Company emphasizes responsible engagement with local communities and stakeholders. It is committed to proactively implementing Good International Industry Practice (GIIP) and sustainable health, safety, and environmental management.
ON BEHALF OF THE BOARD OF DIRECTORS
Terra Balcanica Resources Corp.
"Aleksandar Mišković"
Aleksandar Mišković
President and CEO
For more information about this news release, please contact amiskovic@terrabresources.com, or visit our website at www.terrabresources.com/en/news.
Cautionary Statement
This news release contains certain forward-looking information and forward-looking statements within the meaning of applicable securities legislation (collectively "forward-looking statements"). The use of any of the words "will", "intends" and similar expressions are intended to identify forward-looking statements. These statements involve known and unknown risks, uncertainties and other factors that may cause actual results or events to differ materially from those anticipated in such forward-looking statements. Such forward-looking statements should not be unduly relied upon. Actual results achieved may vary from the information provided herein as a result of numerous known and unknown risks and uncertainties and other factors. The Company believes the expectations reflected in those forward-looking statements are reasonable, but no assurance can be given that these expectations will prove to be correct. The Company does not undertake to update these forward-looking statements, except as required by law.
| | | | | | | | | |
| --- | --- | --- | --- | --- | --- | --- | --- | --- |
| Hole ID | Sample ID | From (m) | To (m) | Au (ppm) | Ag (ppm) | Pb (%) | Sb (%) | Zn (%) |
| CMVDD004 | 105214 | 40.0 | 41.0 | 0.001 | <1 | 0.006 | <0.005 | 0.021 |
| CMVDD004 | 105215 | 41.0 | 42.0 | 0.002 | <1 | <0.005 | <0.005 | 0.014 |
| CMVDD004 | 105216 | 42.0 | 43.0 | 0.007 | <1 | 0.011 | <0.005 | 0.044 |
| CMVDD004 | 105217 | 43.0 | 44.0 | 0.007 | 1 | 0.017 | <0.005 | 0.053 |
| CMVDD004 | 105218 | 44.0 | 44.8 | 0.1 | 1 | 0.026 | 0.009 | 0.161 |
| CMVDD004 | 105219 | 44.8 | 46.5 | 0.812 | 1420 | 3.42 | 9.35 | 4.95 |
| CMVDD004 | 105220 | 46.5 | 47.0 | 1.65 | 43 | 0.267 | 0.447 | 0.309 |
| CMVDD004 | 105221 | 47.0 | 48.0 | 0.249 | 13 | 0.07 | 0.064 | 0.129 |
| CMVDD004 | 105222 | 48.0 | 49.0 | 0.147 | 4 | 0.017 | 0.016 | 0.06 |
| CMVDD004 | 105223 | 49.0 | 50.0 | 0.171 | 4 | <0.005 | 0.008 | 0.031 |
| CMVDD004 | 105224 | 50.0 | 51.0 | 0.277 | 8 | 0.025 | 0.017 | 0.051 |
| CMVDD004 | 105225 | 51.0 | 52.0 | 0.012 | 1 | 0.005 | <0.005 | 0.056 |
| CMVDD004 | 105226 | 52.0 | 53.3 | 0.077 | 2 | 0.008 | 0.007 | 0.02 |
| CMVDD004 | 105227 | 53.3 | 54.0 | 0.06 | 4 | 0.087 | 0.013 | 0.091 |
| CMVDD004 | 105228 | 54.0 | 55.0 | 0.003 | <1 | 0.022 | <0.005 | 0.079 |
| CMVDD004 | 105229 | 55.0 | 56.0 | 0.003 | <1 | 0.018 | 0.006 | 0.05 |
| CMVDD004 | 105230 | 56.0 | 57.0 | 0.003 | 1 | 0.018 | 0.008 | 0.073 |
| CMVDD004 | 105231 | 57.0 | 58.0 | 0.012 | 4 | 0.021 | 0.062 | 0.082 |
| CMVDD004 | 105232 | 57.0 | 58.0 | 0.014 | 2 | 0.02 | 0.046 | 0.08 |
| CMVDD004 | 105233 | 58.0 | 59.0 | 0.002 | <1 | 0.104 | 0.009 | 0.108 |
| CMVDD004 | 105234 | 59.0 | 60.0 | 0.002 | <1 | 0.058 | <0.005 | 0.083 |
| CMVDD004 | 105235 | 60.0 | 61.0 | 0.002 | <1 | 0.012 | <0.005 | 0.048 |
| CMVDD004 | 105236 | 61.0 | 62.0 | 0.005 | <1 | 0.008 | <0.005 | 0.023 |
| CMVDD004 | 105237 | 62.0 | 63.0 | 0.001 | <1 | <0.005 | <0.005 | 0.014 |
| CMVDD004 | 105238 | 63.0 | 64.0 | 0.002 | <1 | <0.005 | <0.005 | 0.016 |
| CMVDD004 | 105239 | 64.0 | 65.0 | 0.002 | <1 | <0.005 | <0.005 | 0.016 |
| CMVDD004 | 105240 | 65.0 | 66.0 | 0.003 | <1 | 0.01 | <0.005 | 0.036 |
| CMVDD004 | 105241 | 66.0 | 67.5 | 0.002 | <1 | 0.007 | <0.005 | 0.022 |
| CMVDD004 | 105242 | 67.5 | 69.0 | 0.01 | 1 | 0.007 | <0.005 | 0.021 |
| CMVDD004 | 105243 | 69.0 | 70.5 | 0.002 | <1 | 0.03 | <0.005 | 0.07 |
| CMVDD004 | 105244 | 70.5 | 71.5 | 0.017 | 2 | 0.069 | 0.012 | 0.102 |
| CMVDD004 | 105245 | 71.5 | 72.9 | 0.03 | <1 | 0.017 | <0.005 | 0.057 |
| CMVDD007 | 105054 | 91 | 92 | <0.001 | <1 | <0.005 | <0.005 | 0.007 |
| CMVDD007 | 105055 | 92 | 93 | <0.001 | <1 | <0.005 | <0.005 | 0.006 |
| CMVDD007 | 105056 | 93 | 94 | <0.001 | <1 | <0.005 | <0.005 | 0.008 |
| CMVDD007 | 105057 | 94 | 95 | <0.001 | <1 | <0.005 | <0.005 | 0.007 |
| CMVDD007 | 105058 | 95 | 96 | <0.001 | <1 | <0.005 | <0.005 | 0.007 |
| CMVDD007 | 105059 | 96 | 97 | <0.001 | <1 | <0.005 | <0.005 | 0.008 |
| CMVDD007 | 105060 | 97 | 98 | <0.001 | <1 | <0.005 | <0.005 | 0.008 |
| CMVDD007 | 105061 | 98 | 99 | <0.001 | <1 | <0.005 | <0.005 | 0.008 |
| CMVDD007 | 105062 | 99 | 100 | <0.001 | <1 | <0.005 | <0.005 | 0.009 |
| CMVDD007 | 105063 | 100 | 101 | <0.001 | <1 | <0.005 | <0.005 | 0.008 |
| CMVDD007 | 105064 | 101 | 102 | <0.001 | <1 | <0.005 | <0.005 | 0.009 |
| CMVDD007 | 105065 | 102 | 103 | <0.001 | <1 | <0.005 | <0.005 | 0.015 |
| CMVDD007 | 105066 | 103 | 104 | <0.001 | <1 | <0.005 | <0.005 | 0.012 |
| CMVDD007 | 105067 | 104 | 105 | <0.001 | <1 | <0.005 | <0.005 | 0.01 |
| CMVDD007 | 105068 | 105 | 106 | <0.001 | <1 | 0.006 | <0.005 | 0.022 |
| CMVDD007 | 105069 | 106 | 107 | 0.002 | <1 | 0.005 | <0.005 | 0.02 |
| CMVDD007 | 105070 | 106 | 107 | 0.002 | <1 | 0.008 | <0.005 | 0.017 |
| CMVDD007 | 105071 | 107 | 108 | 0.006 | <1 | 0.007 | <0.005 | 0.041 |
| CMVDD007 | 105072 | 108 | 109 | 0.001 | <1 | 0.022 | <0.005 | 0.088 |
| CMVDD007 | 105073 | 109 | 110 | 0.032 | 9 | 0.641 | 0.027 | 1.79 |
| CMVDD007 | 105074 | 110 | 111 | <0.001 | <1 | 0.017 | <0.005 | 0.062 |
| CMVDD007 | 105075 | 111 | 112 | <0.001 | <1 | 0.043 | <0.005 | 0.116 |
| CMVDD007 | 105076 | 112 | 113 | <0.001 | <1 | 0.01 | <0.005 | 0.028 |
| CMVDD007 | 105077 | 113 | 114 | <0.001 | <1 | <0.005 | <0.005 | 0.011 |
| CMVDD007 | 105078 | 114 | 115 | <0.001 | 1 | 0.016 | <0.005 | 0.048 |
| CMVDD007 | 105079 | 153 | 154 | <0.001 | <1 | 0.012 | <0.005 | 0.072 |
| CMVDD007 | 105080 | 154 | 155 | <0.001 | 1 | 0.017 | <0.005 | 0.084 |
| CMVDD007 | 105081 | 155 | 156 | <0.001 | <1 | 0.006 | <0.005 | 0.019 |
| CMVDD007 | 105082 | 156 | 157 | <0.001 | <1 | <0.005 | <0.005 | 0.014 |
| CMVDD007 | 105083 | 157 | 158 | <0.001 | <1 | <0.005 | <0.005 | 0.011 |
| CMVDD007 | 105084 | 158 | 159 | <0.001 | <1 | <0.005 | <0.005 | 0.01 |
| CMVDD007 | 105085 | 159 | 160 | <0.001 | <1 | <0.005 | <0.005 | 0.015 |
| CMVDD007 | 105086 | 160 | 161 | <0.001 | <1 | <0.005 | <0.005 | 0.022 |
| CMVDD007 | 105087 | 161 | 162 | <0.001 | <1 | 0.006 | <0.005 | 0.025 |
| CMVDD007 | 105088 | 162 | 163 | <0.001 | <1 | 0.008 | <0.005 | 0.037 |
| CMVDD007 | 105089 | 163 | 164 | <0.001 | <1 | 0.005 | <0.005 | 0.029 |
| CMVDD008 | 105279 | 18.0 | 19.0 | 0.003 | <1 | <0.005 | <0.005 | 0.005 |
| CMVDD008 | 105280 | 19.0 | 20.0 | 0.005 | <1 | 0.005 | <0.005 | 0.005 |
| CMVDD008 | 105281 | 20.0 | 21.0 | 0.005 | <1 | <0.005 | <0.005 | 0.008 |
| CMVDD008 | 105282 | 21.0 | 22.0 | 0.001 | <1 | <0.005 | <0.005 | 0.011 |
| CMVDD008 | 105283 | 22.0 | 23.0 | 0.002 | <1 | 0.069 | <0.005 | 0.08 |
| CMVDD008 | 105284 | 23.0 | 24.0 | 0.003 | <1 | 0.011 | <0.005 | 0.028 |
| CMVDD008 | 105285 | 24.0 | 25.0 | 0.002 | <1 | 0.006 | <0.005 | 0.01 |
| CMVDD008 | 105286 | 25.0 | 26.0 | 0.004 | 2 | 0.005 | <0.005 | 0.007 |
| CMVDD008 | 105287 | 26.0 | 27.0 | 0.001 | <1 | <0.005 | <0.005 | 0.006 |
| CMVDD008 | 105288 | 27.0 | 28.0 | 0.001 | 1 | <0.005 | <0.005 | 0.013 |
| CMVDD008 | 105289 | 28.0 | 29.0 | 0.002 | <1 | 0.005 | 0.006 | 0.02 |
| CMVDD008 | 105290 | 28.0 | 29.0 | <0.001 | 1 | <0.005 | <0.005 | 0.018 |
| CMVDD008 | 105291 | 29.0 | 30.0 | 0.002 | 1 | 0.005 | <0.005 | 0.018 |
| CMVDD008 | 105292 | 30.0 | 31.0 | 0.004 | 2 | 0.04 | <0.005 | 0.116 |
| CMVDD008 | 105293 | 31.0 | 32.0 | 0.004 | 2 | 0.108 | <0.005 | 0.21 |
| CMVDD008 | 105294 | 32.0 | 33.0 | 0.005 | 1 | 0.009 | 0.008 | 0.101 |
| CMVDD008 | 105295 | 33.0 | 34.0 | 0.002 | <1 | <0.005 | <0.005 | 0.013 |
| CMVDD009 | 105296 | 56.5 | 57.5 | 0.001 | <1 | 0.007 | <0.005 | 0.026 |
| CMVDD009 | 105297 | 57.5 | 58.5 | 0.002 | <1 | 0.024 | <0.005 | 0.072 |
| CMVDD009 | 105298 | 58.5 | 59.5 | 0.011 | 4 | 0.326 | <0.005 | 1.03 |
| CMVDD009 | 105299 | 59.5 | 60.5 | 0.005 | 1 | 0.084 | 0.009 | 0.181 |
| CMVDD009 | 105300 | 60.5 | 61.5 | 0.008 | 1 | 0.121 | 0.006 | 0.152 |
| CMVDD009 | 105301 | 61.5 | 62.5 | 0.002 | <1 | 0.0025 | <0.005 | 0.007 |
| JOSDD001 | 105302 | 4.3 | 5.3 | 0.028 | 1 | 0.066 | <0.005 | 0.413 |
| JOSDD001 | 105303 | 5.3 | 6.3 | 0.001 | <1 | <0.005 | <0.005 | 0.009 |
| JOSDD001 | 105304 | 6.3 | 7.3 | 0.001 | <1 | 0.005 | <0.005 | 0.009 |
| JOSDD001 | 105305 | 49 | 50 | <0.001 | <1 | <0.005 | <0.005 | 0.006 |
| JOSDD001 | 105306 | 50 | 51 | 0.001 | <1 | <0.005 | 0.005 | 0.007 |
| JOSDD001 | 105307 | 51 | 52 | 0.003 | 1 | 0.005 | 0.007 | 0.008 |
| JOSDD001 | 105308 | 52 | 53 | 0.022 | <1 | 0.018 | <0.005 | 0.022 |
| JOSDD001 | 105309 | 53 | 54 | 0.076 | 6 | 0.458 | <0.005 | 1.34 |
| JOSDD001 | 105310 | 54 | 55 | 0.014 | 4 | 0.131 | 0.011 | 0.413 |
| JOSDD001 | 105311 | 55 | 56 | 0.101 | 16 | 0.87 | 0.005 | 3.5 |
| JOSDD001 | 105312 | 56 | 57 | 0.017 | 3 | 0.16 | 0.006 | 0.755 |
| JOSDD001 | 105313 | 57 | 58 | 0.015 | 3 | 0.066 | <0.005 | 0.93 |
| JOSDD001 | 105314 | 58 | 59 | 0.119 | 35 | 2.38 | 0.009 | 3.03 |
| JOSDD001 | 105315 | 59 | 60 | <0.001 | 1 | 0.019 | <0.005 | 0.052 |
| JOSDD001 | 105316 | 60 | 61 | 0.006 | <1 | 0.011 | <0.005 | 0.021 |
| JOSDD001 | 105317 | 61 | 62 | 0.016 | <1 | 0.007 | <0.005 | 0.011 |
| JOSDD001 | 105318 | 62 | 63 | 0.002 | <1 | 0.005 | <0.005 | 0.005 |
| JOSDD001 | 105319 | 62 | 63 | 0.003 | <1 | <0.005 | <0.005 | 0.006 |
| JOSDD001 | 105320 | 63 | 64 | 0.003 | <1 | 0.024 | <0.005 | 0.038 |
| JOSDD001 | 105321 | 64 | 65 | 0.013 | 2 | 0.25 | <0.005 | 0.597 |
| JOSDD001 | 105322 | 65 | 66 | 0.005 | 2 | 0.056 | <0.005 | 0.162 |
| JOSDD001 | 105324 | 66 | 67 | <0.001 | <1 | 0.005 | <0.005 | 0.01 |
| JOSDD001 | 105325 | 67 | 68 | 0.001 | <1 | 0.007 | <0.005 | 0.01 |
| JOSDD001 | 105326 | 68 | 69 | <0.001 | <1 | 0.025 | <0.005 | 0.062 |
| JOSDD001 | 105327 | 69 | 70 | <0.001 | 1 | 0.062 | <0.005 | 0.83 |
| JOSDD001 | 105328 | 70 | 71 | 0.001 | 2 | 0.117 | <0.005 | 1.885 |
| JOSDD001 | 105329 | 71 | 72 | <0.001 | <1 | 0.012 | <0.005 | 0.264 |
| JOSDD001 | 105330 | 72 | 73 | <0.001 | <1 | <0.005 | <0.005 | 0.008 |
| JOSDD002 | 105331 | 4 | 5 | 0.006 | <1 | <0.005 | <0.005 | 0.012 |
| JOSDD002 | 105332 | 5 | 6 | 0.106 | 1 | <0.005 | <0.005 | 0.009 |
| JOSDD002 | 105333 | 6 | 7 | <0.001 | <1 | <0.005 | <0.005 | 0.008 |
| JOSDD002 | 105334 | 19 | 20 | 0.004 | <1 | 0.012 | <0.005 | 0.009 |
| JOSDD002 | 105335 | 20 | 21 | 0.065 | <1 | 0.013 | <0.005 | 0.015 |
| JOSDD002 | 105336 | 21 | 22 | 0.011 | <1 | <0.005 | <0.005 | 0.008 |
| JOSDD002 | 105337 | 22 | 23 | 0.006 | 2 | <0.005 | <0.005 | 0.009 |
| JOSDD002 | 105338 | 23 | 24 | 0.002 | <1 | <0.005 | <0.005 | 0.008 |
| JOSDD002 | 105339 | 24 | 25 | <0.001 | <1 | <0.005 | <0.005 | 0.008 |
| JOSDD002 | 105340 | 25 | 26 | <0.001 | <1 | <0.005 | <0.005 | 0.009 |
| JOSDD002 | 105341 | 26 | 27 | <0.001 | <1 | <0.005 | <0.005 | 0.008 |
| JOSDD002 | 105342 | 27 | 28 | 0.001 | <1 | <0.005 | <0.005 | 0.008 |
| JOSDD002 | 105343 | 28 | 29 | 0.003 | 2 | 0.012 | <0.005 | 0.027 |
| JOSDD002 | 105344 | 29 | 30 | 0.05 | <1 | 0.007 | <0.005 | 0.013 |
| JOSDD002 | 105345 | 30 | 31 | 0.202 | <1 | 0.035 | 0.005 | 0.08 |
| JOSDD002 | 105346 | 31 | 32 | 1.115 | <1 | 0.024 | 0.011 | 0.292 |
| JOSDD002 | 105347 | 32 | 33 | 0.001 | <1 | 0.006 | <0.005 | 0.008 |
| JOSDD002 | 105348 | 47 | 48 | 0.003 | <1 | <0.005 | 0.006 | 0.008 |
| JOSDD002 | 105349 | 48 | 49 | 0.003 | 1 | 0.007 | 0.006 | 0.023 |
| JOSDD002 | 105350 | 49 | 50 | 0.004 | <1 | <0.005 | <0.005 | 0.013 |
| JOSDD002 | 105351 | 50 | 51 | 0.004 | <1 | <0.005 | <0.005 | 0.009 |
| JOSDD002 | 105352 | 50 | 51 | 0.004 | <1 | <0.005 | <0.005 | 0.009 |
| JOSDD002 | 105353 | 51 | 52 | 0.181 | <1 | 0.027 | <0.005 | 0.048 |
| JOSDD002 | 105354 | 52 | 53 | 0.007 | <1 | 0.028 | <0.005 | 0.025 |
| JOSDD002 | 105355 | 53 | 54 | 0.006 | <1 | 0.018 | <0.005 | 0.021 |
| JOSDD002 | 105356 | 54 | 55 | 0.001 | <1 | <0.005 | <0.005 | 0.005 |
| JOSDD002 | 105357 | 55 | 56 | 0.001 | <1 | <0.005 | <0.005 | 0.005 |
| JOSDD002 | 105358 | 56 | 57 | 0.004 | <1 | <0.005 | <0.005 | 0.004 |
| JOSDD002 | 105359 | 57 | 58 | 0.001 | <1 | <0.005 | <0.005 | 0.003 |
| JOSDD002 | 105360 | 58 | 59 | <0.001 | <1 | <0.005 | <0.005 | 0.004 |
| JOSDD002 | 105361 | 59 | 60 | 0.003 | <1 | 0.034 | <0.005 | 0.038 |
| JOSDD002 | 105362 | 60 | 61 | <0.001 | <1 | 0.006 | <0.005 | 0.01 |
| JOSDD002 | 105363 | 61 | 62 | <0.001 | 1 | 0.011 | <0.005 | 0.009 |
| JOSDD002 | 105364 | 62 | 63 | 0.001 | 1 | <0.005 | <0.005 | 0.002 |
| JOSDD002 | 105365 | 63 | 64 | <0.001 | <1 | <0.005 | <0.005 | 0.002 |
| JOSDD002 | 105366 | 64 | 65 | <0.001 | <1 | 0.01 | <0.005 | 0.012 |
| JOSDD002 | 105367 | 65 | 66 | 0.003 | 1 | 0.083 | <0.005 | 0.272 |
| JOSDD002 | 105368 | 66 | 67 | 0.002 | 1 | 0.095 | <0.005 | 0.228 |
| JOSDD002 | 105369 | 67 | 68 | 0.004 | 2 | 0.113 | <0.005 | 0.295 |
| JOSDD002 | 105370 | 68 | 69 | 0.013 | 2 | 0.18 | <0.005 | 0.32 |
| JOSDD002 | 105371 | 69 | 70 | 0.006 | 1 | 0.039 | <0.005 | 0.106 |
| JOSDD002 | 105372 | 70 | 71 | 0.065 | 0.5 | 0.006 | <0.005 | 0.01 |
| JOSDD002 | 105373 | 71 | 72 | <0.001 | <1 | <0.005 | <0.005 | 0.006 |
| JOSDD002 | 105374 | 72 | 73 | 0.002 | 1 | <0.005 | <0.005 | 0.004 |
| JOSDD002 | 105375 | 73 | 74 | 0.001 | <1 | 0.007 | <0.005 | 0.013 |
| JOSDD002 | 105376 | 74 | 75 | <0.001 | <1 | 0.038 | <0.005 | 0.084 |
| JOSDD002 | 105377 | 75 | 76 | 0.004 | <1 | 0.039 | <0.005 | 0.094 |
| JOSDD002 | 105378 | 76 | 77 | 0.03 | 1 | 0.089 | <0.005 | 0.227 |
| JOSDD002 | 105379 | 77 | 78 | 0.018 | 8 | 0.589 | <0.005 | 0.983 |
| JOSDD002 | 105380 | 78 | 79 | 0.004 | 2 | 0.053 | <0.005 | 0.125 |
| JOSDD002 | 105381 | 78 | 79 | 0.003 | <1 | 0.05 | <0.005 | 0.119 |
| JOSDD002 | 105382 | 79 | 80 | 0.007 | <1 | 0.072 | 0.005 | 0.112 |
| JOSDD002 | 105383 | 80 | 81 | 0.064 | <1 | 0.053 | 0.006 | 0.081 |
| JOSDD002 | 105384 | 81 | 82 | 0.023 | <1 | 0.032 | 0.008 | 0.051 |
| JOSDD002 | 105385 | 82 | 83 | 0.019 | <1 | 0.025 | 0.005 | 0.02 |
| JOSDD002 | 105386 | 83 | 84 | <0.001 | <1 | <0.005 | <0.005 | 0.015 |
| JOSDD002 | 105387 | 84 | 85 | <0.001 | <1 | <0.005 | <0.005 | 0.011 |
| JOSDD002 | 105388 | 85 | 86 | <0.001 | <1 | <0.005 | <0.005 | 0.01 |
| JOSDD002 | 105389 | 86 | 87 | <0.001 | <1 | <0.005 | <0.005 | 0.013 |
| JOSDD002 | 105390 | 87 | 88 | <0.001 | <1 | <0.005 | <0.005 | 0.01 |
| JOSDD002 | 105391 | 88 | 89 | 0.001 | <1 | <0.005 | <0.005 | 0.008 |
| JOSDD002 | 105392 | 89 | 90 | <0.001 | <1 | <0.005 | <0.005 | 0.01 |
| JOSDD002 | 105393 | 90 | 91 | <0.001 | <1 | <0.005 | <0.005 | 0.009 |
| JOSDD002 | 105394 | 91 | 92 | <0.001 | <1 | <0.005 | <0.005 | 0.009 |
| JOSDD002 | 105395 | 92 | 93 | 0.013 | <1 | <0.005 | <0.005 | 0.01 |
| JOSDD002 | 105396 | 93 | 94 | <0.001 | <1 | <0.005 | <0.005 | 0.008 |
| JOSDD002 | 105398 | 94 | 95 | 0.002 | <1 | <0.005 | <0.005 | 0.01 |
| JOSDD002 | 105399 | 95 | 96 | <0.001 | <1 | <0.005 | <0.005 | 0.009 |
| JOSDD002 | 105400 | 96 | 97 | <0.001 | <1 | <0.005 | <0.005 | 0.008 |
| JOSDD002 | 105401 | 97 | 98 | <0.001 | <1 | <0.005 | <0.005 | 0.009 |
| JOSDD002 | 105402 | 98 | 99 | <0.001 | <1 | <0.005 | <0.005 | 0.008 |
| JOSDD002 | 105403 | 99 | 100 | <0.001 | <1 | <0.005 | <0.005 | 0.009 |
| JOSDD002 | 105404 | 100 | 101 | <0.001 | <1 | <0.005 | <0.005 | 0.009 |
| JOSDD002 | 105405 | 101 | 102 | <0.001 | <1 | <0.005 | <0.005 | 0.007 |